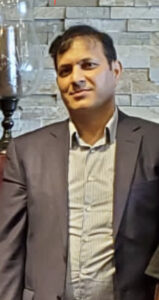 Arshad Mahmood, ADCP, Psy.D. RP
Director
Arshad Mahmood received the Doctor of Psychology (Psy.D.) in Clinical Psychology from California Southern University, USA. He has over 16 years of clinical experience with adults and children in a wide variety of settings, including hospitals and community mental health clinics, as well as in private practice. His doctoral research pertains to anger management and behavioural addiction. He has expertise in the treatment of anger management, depression, anxiety, phobia, PTSD, chronic pain, and smoking cessation  using a Cognitive Behavioural Approach. He is fluent in English, Urdu, Punjabi and Hindi.
Arshad's research work has been published in peer-reviewed journals and he has delivered workshops and lectures in these areas. He has trained other health professionals in Cognitive Behaviour Therapy, mental health and smoking cessation in Canada and abroad. He has worked at the Centre for Addiction and Mental Health, Geneva Centre for Autism and Toronto Regional Pain Management Clinic.
He uses a solution focused, result-oriented approach and seeks to empower his clients to thrive and grow to their full potential in everyday life. As such, he practices Spiritually-augmented Cognitive Behaviour Therapy and Mindfulness. He is a member of  American Psychological Association, Canadian Association of Cognitive Behaviour Therapists, the Ontario Association for Behaviour Analysis (ONTABA) as well as the College of Registered Psychotherapists of Ontario.
Arshad's Research Work
Expressed Emotions and Schizophrenia
Anger and Aggression in Gambling Disorder
Teaching a Child with Autism to Identify 2D Objects to Increase Receptive Language